by Carla Fry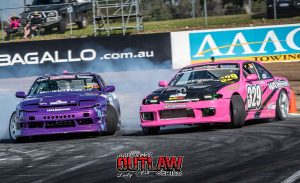 The fourth and final round of Driftwest's Outlaw series was held on Sunday, competing on the challenging turn 7 layout in front of McCrackan House. All drivers pushed their cars to the absolute limits on the day with car reliability playing a key role for the 21 Drivers battling it out for points.
Damian McBride rose to the top of the points table after the 9 qualifying battles. The top 8 drivers then battled it out elimination style with plenty of close calls keeping the crowd on the edge of their seat. But there was a standout driver and winner of the day, in young gun Luke Veersma providing chase runs within millimetres all day long. Damian McBride finished the round in 2nd place, followed by Dave Gordon in 3rd and Nick Owen in 4th. All top 4 drivers piloted LS-powered S-Chassis Nissans.
Jamie Worroll entered the event sitting on top of the championship ladder after consistent high scores in the 3 previous rounds, and after finishing in the top 8 for round 4, he sealed the Outlaw Series Championship for 2019. Luke Veersma finished in 2nd and David O'Halloran finished in 3rd place for the season.
We would like to thank all our competitors who entered the Outlaw Series this year, and look forward to another exciting championship in 2020.
Stay tuned to our Driftwest Facebook page for details on upcoming events for the remainder of 2019. For the Month of August we have a Saturday night practice on the 3rd plus an event on Sunday the 25th on Jack's Hill.
Photo credit: Lady Ash Snaps