Race Report by Tim Riley
Sunday 14th June 2019
A Steven Bradbury moment in the U2L Class
Whilst Matt Cherry 'got on with business' in his over 2L Monaro, things did not go quite as expected in under 2L. Randle Beavis, better known for his exploits in a Historic Racing Cortina, only recently joined IPRAWA.  Beavis did not know he had won the coveted trophy, and had to be chased on the PA system to go down to the start finish line for trophy presentation.
More of that later.  Now to the format of the Tander Trophy:
Race 1:  Fastest qualifying to Pole as normal
Race 2:  Reverse grid from Race 1
Race 3:  Reverse grid based on total points from Races 1 & 2
The Tander Trophy is also unusual in only recognising O2L and U2L, whereas IPC normally recognises additional U3L and U1600 classes.  Winners in the two classes are based upon total points for the day.
Qualifying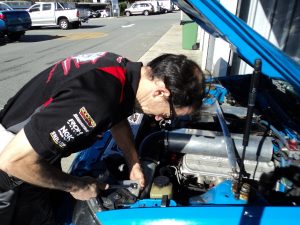 The Racing Gods started their monkey business early in the day, when both bonnet lock-down pins broke on the #7 Commodore of Dion Panizza.
The bonnet flew up, smashed itself and the windscreen and damaged the front roof area.  Judging by the damage, Dion must have been going quite fast when he lost all forward vision (end game).  No way would scrutineers let him out with such a damaged windscreen, so nobody expected to see Dion again.
Meanwhile, out front, it was the #44 Monaro of Matt Cherry from the #5 Commodore of John Callegari, both with 6L power.  The lighter AWD of Michael Sciorio qualified 3rd and would have preferred rain, but the sun shone all day.
In under 2 Litre, time sheets were topped by class favourite Grant Gellan in the black #46 Escort, ahead of the Civic of Neil Pollard and Randle Beavis in 3rd.
The under 2L field was sadly depleted, with regulars Brad Wheeler, Ron Coote and Tim Riley all having dramas and not able to enter the event.
Race 1
Sciorio made a lightning start from P3 using the WRX's AWD advantage, leaping well into the lead.  Then, it became time to shift from 2nd to 3rd gear, and ooops, he found 1st again.  It looked like a boat anchor had been thrown out, and the AWD advantage was gone.
All went well for Cherry, but whilst running a strong 2nd, Callegari suffered a case of the wobbles and was forced to retire (excuse the oncoming pun).  The problem was later diagnosed as a leaky tyre valve.  The Racing Gods had not finished yet, and released yet more gremlins to attack the BMW M3 of Jason Sinclair and the WRX of Kevin Simonsen.
This left the way clear for Sciorio and Mitic to take 2nd & 3rd in O2L.
In U2L, Gellan's Escort was being driven by a rally specialist and it looked like it.  The cheeky little Escort ran 6th Overall and won a well-deserved class victory from Pollard and Geoff Duckworth.  Ducky put in a fine performance in the only 1600 entered for the U2L Class.
Race 2
Amazingly, Panizza appeared with a new windscreen and a very second-hand looking bonnet.  Only someone who works at 'Just Commodres' could do this.
Reverse grid races have the potential for spectacular starts and all eyes were on Sciorio.  As usual the WRX launched, but with everyone trying to pass everyone else, contact was made when the rapid Sciorio rear ended Gellan.
However, it did not take long for Cherry to assert his authority.  Then, during the latter stages of the race, Callegari running 2nd, pinched a brake going into Turn 7 and beached the commodore deep in the sand trap.  Race Control bought out the chequered flag early after 9 Laps.
That left the O2L 2nd / 3rd podium open again for Sciorio and Mitic.
In U2L, Gellan again outclassed the rest of the field, finishing ahead of Pollard and Beavis.
Race 3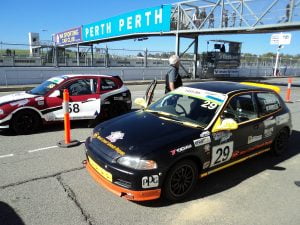 Again, a reverse grid start, but this time a longer race of 15 Laps.
Damage from the Gellan contact in Race 2 resulted in a decision by Sciorio to park up the damaged WRX, as the intercooler bracket had punched back and damaged the radiator.  Probably a wise move, as whilst the leak was small and had lasted the previous race of 9 laps, a 15 Lap final is another story.  Race engines are not cheap.
The O2L final race went well, with Cherry taking a well-deserved trifecta in the 6L Monaro.  Mitic drove a brilliant race in the 3,200cc BMW M3 coming home 2nd followed by John Callegari getting his only finish of the day.
Meanwhile, interesting things were going on in U2L.  The gods released the gremlins again on Lap 11, when Gellan's Escort mysteriously dropped onto 3 cylinders and Pollard ceased to circulate – reason unknown.  And that left guess who? Newcomer to IPC – Randle Beavis had bagged most points for the day – A Steven Bradbury moment.
Class Winners for the Tander Trophy
Over 2 Litre:   Matt Cherry, Holden Monaro – 75 Points
Under 2 Litre:  Randle Beavis, Mitsubishi Mirage – 60 Points
Thanks
Finally, IPRAWA is grateful to our principal category sponsors Healthway for their ongoing support this year.  IPRAWA is proud to support the Make Smoking History campaign.  As always, a huge Thank You to Yokohama, and also thanks to additional sponsors Jasmat Steel Fabrications, JP Pallets, Racing Dynamics and P1 Racewear.  Please support the health message and the companies that support our racing.